Dog Sitter Lakeland, FL
As a pet owner I know it's hard to leave your loved ones, yet there are many times when it is unavoidable. My name is Marcia Berger and I have experience both professionally and personally caring for a wide variety of animals. I have a special interest in timid or aggressive pets that other sitters have turned away. My house is currently home to five dogs, along with seven cats, and three birds. I started this business to assist people like me who are pet owners that feel that their animals are an extension of ones family.
I understand what you're going through. There are many options when you must leave your pets. While leaving them in a kennel is a popular choice, I provide a personal and professional alternative to this dilemma. My pet sitting services with allow for continuity with your routine by being a reliable, in-home service to ensure that your pets feel safe and comfortable while you are away.
Caring pet owners know that most pets adjust better to their owner's absence and experience less anxiety and stress when they can remain their home environments. That is my goal for every client! Whether it's daily, weekend, overnight or sparatic visits, I make sure to spend quality time with your animals. With familiar sights, sounds, smells, and routines, your pet can relax and follow its regular schedule.
Not only do I want your animals to feel comfortable, I want to provide you with peace of mind as well. I will take digital pictures of your pet and create emergency cards, completely free of charge! I also provide house sitting services and employ crime deterrence techniques to decrease the chance of any disturbances while you're away.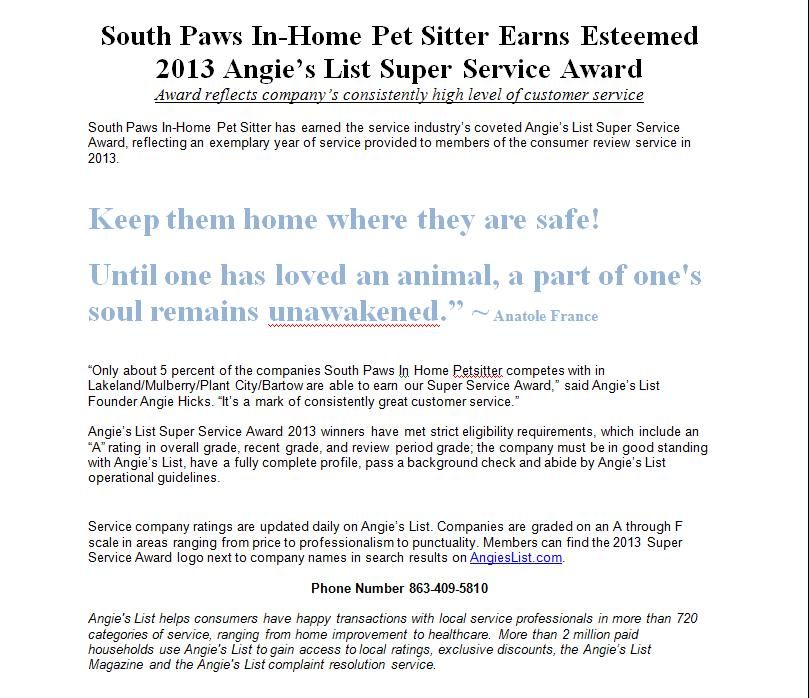 Pet Sitting Services Offered
Our Services Include:
Dog Sitting
House Sitting
Grooming
Minor Veterinary Care
Animal Transportation
Home Security
Large Animal Care
Cats
Pasture Rotation
And More!
Call today for more information about our services and pricing!
---